I am celebrating my birthday early this year with an amazing trip to Paris! I shot this video yet due to some wind gusts and an adorable photo bomber, I was quite distracted and did not give you all of my golden nuggets from the year, only a few highlights.  I have a gift for you as well at the end of this video so I added the rest below. What I have come to enjoy is looking over my year and sharing with you some of my favorite highlights and learnings that I acquired with another trip around the sun. Last years, I had a few challenges and tough lessons, this year they are all light and delicious. So here are the valuable lessons and your free gift…
I didn't get to all the highlight in the video, so here is a recap of some of the ones I missed…
I started off with being recognized with the Team Northrup Vision Award for my contributions in creating a true health movement (not disease screening or disease care, but actual true health!) This is such an honor and has launched an even greater focus on the impact I can make to truly improving people's lives for the better with excellent health, time freedom and living out one's life purpose creating something with a global positive impact. If this resonates with you, please send me an email at sheila@hegratefulgoddess.com with True Health in the subject line to learn more.
My Goddess Getaway in Mexico is always a highlight of my year and this year was no different – amazing women, beautiful transformations. I am so blessed to do this work. If this intrigues you, go to 'Work with Me – Goddess Getaway' for more details on how you can live with more joy, freedom, gratitude and clarity in your life.
I spent time with amazing thought leaders (fact: you are the average of the 5 people you spend the most time with, so choose the people you surround yourself with very wisely!). All of these people inspire me greatly and I am honored to glean from their wisdom–
92 year old Edna Northrup and her daughter, Penny and Phil Kirk- after a weekend of golf, Olympics and a presentation on their hike to Mt Everest base camp, they provided valuable insights on how to live your life to the fullest –  – check out the video on Ageless Living,  if you missed it, it is treasured wisdom! Edna made the Mt Everest climb at the young age of 84 reminding us all that age is simply a number, not a limitation.
True Magic Conference with Elizabeth Gilbert and Martha Beck – as I mentioned above, the people you surround yourself impact the quality of your life, so here is a tip: if you do not currently have a circle of impeccable friends with lives similar to the way you would like to live yours, then I highly recommend attending conferences that match your interests. Here I met an incredible group of women who quickly became fast friends.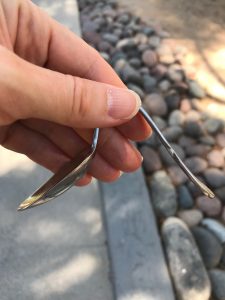 In the video I talk about my favorite takeaway – love is stronger than resistance – and even show you my mind-bending strength in love. I bent this spoon in half with no efforting.
Another conference: Mindvalley Reunion – many favorites like Neal Donald Walsh, Lisa Nichols, Emily Fletcher and Michael Bernard Beckwith – another favorite frame of Michael's talk is where they measured the soil with a seed planted in it and then years later measured it again and it was the exact same, only now there was this magnificent oak tree, so that mammoth tree was inside that tiny little seed all along. We have all we need inside ourselves as well. It is simply waiting for us to come out and be the fullest expression of ourselves.
I am always in search of expanding my learning and even though I have a meditation practice, I really liked Emily Fletcher's style and presence, so I signed up for her meditation class and I am excited to say I have improved upon and been even more consistent in my meditations ever since. I am always suggesting, encouraging and leading other's through meditations, so this is yet another gentle nudge that if do not have a meditation practice for yourself, I highly recommend it.
I attended to two different weekends with Lisa Nichols this year – both amazing experiences, she has such a huge and gracious heart and is doing so much to heal humanity and empower people to find their voice and live their full potential. She modeled for me how it is possible to create connection with a larger audience. (My preference has always been smaller, more intimate groups.) She is an amazing storyteller, she is funny, engaging, powerful and transformational. And she likes to play as hard as she works, so we had a fun night as our goddess warriors (see photo above).
Speaking of being playful – I upped my game in acro yoga flash mobs, performances and scavenger hunts. New insights on myself #i'mnotcompetitiveijustliketowin. Lesson: It is never too late to let your inner child out to laugh, play, and explore new possibilities.
I have had a very full and fabulous year of personal growth and insights (like I really am competitive – who knew?) and the reason I share all of this with you is because I have an insatiable appetite of personal growth and learning how to be the very best version of myself so that I can help others be the best version of themselves. I am grateful to be ever evolving and growing so that I have even more to offer you. As my gift to you to celebrate my birthday, I am offering a free coaching session to as many people as I can manage throughout the month of July.
Go here to book your own breakthrough coaching session for free! … https://coachingsessionwithSheila.as.me/freebdaygift